HAPPINESS GUARANTEE
Indulge in Self Care.
Here's why we know you will love it .
Improved Skin Hydration
gain a healthy and glowing complexion.
Feel More Confident
When you look good, you feel good.
All natural ingredients
Created with your health in mind.
Cruelty Free
Committed to formulating cruelty-free products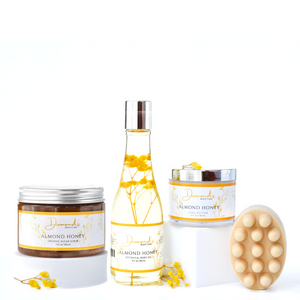 What they say about us
Testimonials
"I absolutely love the Almond Honey Shea Butter. I've been purchasing it for years. It's the ONLY body moisturizer I use.."
"I love their Almond Honey Scrub so much. You know I must love it to switch from my all-time former favorite Fresh brand."
"I love how Diamond's Body Care Shea Butter it makes my skin so smooth. White Tea and Ginger is my fav."
" Diamond's Body Care sugar scrub is the bomb. I just ran out and have to order more ASAP. I even use it on my son it's good sh#%"
Rose Yoni Collection
Intimately Taking Care of you!
click below to read featured articles
Featured In